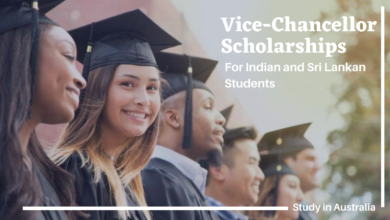 The Vice Chancellor Scholarship India and Sri Lanka at La Trobe University are offered for a Bachelor's, Master's degree in the field of Courses offered at the university.
About The University
La Trobe University has been one of Australia's pioneering universities for over 50 years. The university discovers its unique history which includes its motto and coat of arms. In 1967, about 552 students enrolled at La Trobe University, the third university to open in Victoria, which has grown to accommodate more than 36,000 students, with more than 7,000 international students from 110 countries.
However, the university now has a network of campuses, with more than 28,000 students at our Melbourne Campus and more than 7,500 at our campuses in Albury-Wodonga, Bendigo, Mildura, Melbourne City (Collins Street), Shepparton, and Sydney.
La Trobe University was established in 1964 after the assent of the La Trobe University Act by Victorian Parliament on 9 December 1964. The passing of the Act of Victorian Parliament to create La Trobe University followed earlier University Acts to establish the University of Melbourne (1853), and Monash University (1958).
In addition, the Minister of Education at the time and the appointed planning council were unanimous in their enthusiasm that the new institution should be original in its approach, and the university adopted an academic structure based on schools of studies rather than on faculties and an academic format, where a large number of students lived on campus.
But at this time, Flinders University and Macquarie University were also creating a school-based system. Most prominent Victorians were involved in La Trobe University's establishment process, and there was a strong belief that it was essential to increase research and learning in Victoria.
Furthermore, one of the major individuals involved was Davis McCaughey, who later became Governor of Victoria. Although La Trobe University was named after Charles Joseph La Trobe, the first Governor of Victoria, the university motto 'whoever seeks shall find' is adapted from his family motto.
The La Trobe University Coat of Arms integrates the scallop shells from the La Trobe family bearings, the Australian wedge-tailed eagle to represent Australia, and sprigs of heath to represent Victoria. The history of the university can be traced back to the post-World War II era when there emerged a global recognition of the necessity to increase facilities for higher education.
In 1957, Prime Minister Sir Robert Menzies created a special committee to report on the future of Australian universities, inviting Sir Keith Murray, Chairman of the University Grants Committee of Great Britain, to chair it.
Then in September 1957, the Murray Committee, in a far-reaching report submitted and recommend a major expansion of university facilities in Australia and changes in administration and financing. But as a direct consequence of the key recommendations of the Murray report, the federal government formed the Australian Universities Commission (AUC) in 1959, appointing Sir Leslie Martin as its chair.
Worth of The Scholarship
The Vice Chancellor Scholarship India and Sri Lanka cover a 100% deduction on annual tuition fees. Note that the scholarship will be applied to your tuition fees for the entire duration of the course and it will be reflected on your Statement of Account every semester. Failure to meet the scholarship terms and conditions may lead to the withdrawal of the scholarship. Each student must cover the cost of the OSHC policy.
Eligibility for Vice Chancellor Scholarship India and Sri Lanka
To be eligible for the Vice Chancellor Scholarship in India and Sri Lanka, you must be a citizen and resident of India or Sri Lanka.
Applicants must be qualified for direct entry (no ELICOS or pathway) commencing an undergraduate or postgraduate coursework degree which is under the LTIS List of Eligible courses.
You must be a full-fee paying student (Non-Sponsored) to be qualified for the Vice Chancellor Scholarship India and Sri Lanka.
Each candidate must have an overall WAM* (AQF Equivalent) of 80% or above to be qualified.
Scholars must meet all the conditions in the offer letter by the provided deadline.
How to Apply for Vice Chancellor Scholarship India and Sri Lanka
For more information about the Vice Chancellor Scholarship India and Sri Lanka and to apply for the scholarship, click here.
The Application Deadline for the scholarship is August 20, 2022